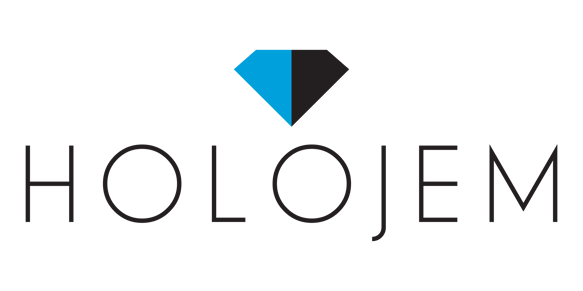 So, you didn't get to see every single booth and exhibit at JCK Las Vegas.
If you did, that would be the equivalent of going on every single ride at Disneyland in one day. It's just not possible.
To fill you in, here's a recap of three new technologies that were presented at the show, one of which was named the winner of JCK's Think Tank competition. And yes, it involves hologram jewelry.
JM Journey App™
While JCK Las Vegas was in full swing, the JM Journey App was used as a scavenger hunt for participating showgoers. After downloading the app, they had the opportunity to win prizes with each "diamond" found at specific locations at the show.
Beacon technology was used to reward participants with a virtual diamond as they visited booths and exhibits connected with the app. The more exhibits they visited - and diamonds they collected - the greater their chances were to win.
Sounds pretty neat, right?
Well, what if you were told that this same technology could be used to determine where customers spend the most time in your store and could automatically send them custom offers to their mobile device?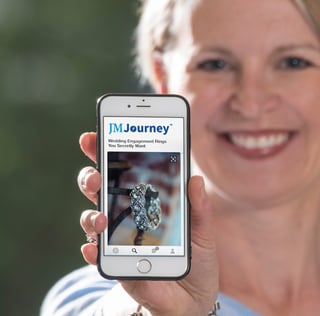 That's just scratching the surface of all the possibilities available with the JM Journey App. As development continues, this concept is sure to turn the heads of many tech-savvy jewelers and their customers who become immersed in an omnichannel retail experience.
The Connected Display Case
The Internet of Things (IoT) is making its way into seemingly every industry on the planet, and retail jewelry is no exception.
The broad concept of IoT is relatively simple, yet has the potential to revolutionize the way we live by integrating connectivity into everyday objects (think washing machines, thermostats, traffic cameras, and everything under the sun) and allow them to send and receive data to our already connected devices.
The Connected Display Case applies that technology to jewelry businesses by implementing sensors that act as digital security guards. Instead of your showcases sitting idly by and only providing a physical (but not impenetrable) barrier between a potential criminal and your merchandise, the sensors can alert you to danger.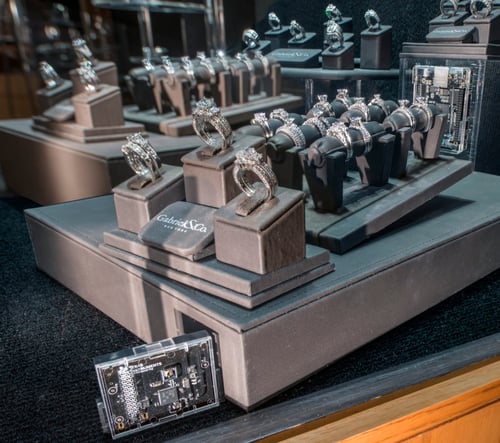 The sensors detect patterns in movement, light, weight, temperature, humidity and pressure - and when they reach a predefined threshold, notifications are sent out to staff, owners, and authorities.
This technology was developed by a collaborative team of Jewelers Mutual staff members. In addition to this collaboration, a team from Faubion Associates and DGA security developed a nearly smash-resistant glass that utilizes a built-in vibration sensor that functions much like the other sensors in the showcase.
Holojem™
Believe it. Hologram jewelry is here and it signals a new jewelry-buying experience unlike anything you've ever seen before.
Take an up-close look:
See it in action:
What you're witnessing is a 3D holographic projection that occurs in real-time through a cloud-based rendering engine. Designs can also be updated in real time and those interacting with the virtual jewelry pieces gain a 360-degree view of them through natural hand movement.
Along with the usage of a clear, plastic pyramid-shaped film that sits atop the screens of mobile devices or tablets, a similar projection can be brought to life anywhere.
While the JM Journey App and the Connected Display Case are undoubtedly interesting, it's not hard to see why Holojem was named the winner of JCK's Think Tank competition.
All of this technology presents the entire industry with wonderful opportunities. The jewelry store of the future is upon us and, much like the Tomorrowland Walt Disney envisioned, it's something to be excited about.
"A vista into a world of wondrous ideas, signifying Man's achievements ... A step into the future, with predictions of constructed things to come. Tomorrow offers new frontiers in science, adventure and ideals." - Walt Disney