NEENAH, Wis. (March 26, 2020) - Who can relate? Once that beautiful engagement ring is placed on your finger, there's no way it's coming off. But the jewelry insurance experts at Jewelers Mutual Group identify key moments when removing the ring is a must to prevent loss and damage.
A recent study conducted by Jewelers Mutual reveals 60% of respondents do not remove their engagement ring when washing their hands and over 50% do not remove their ring before showering.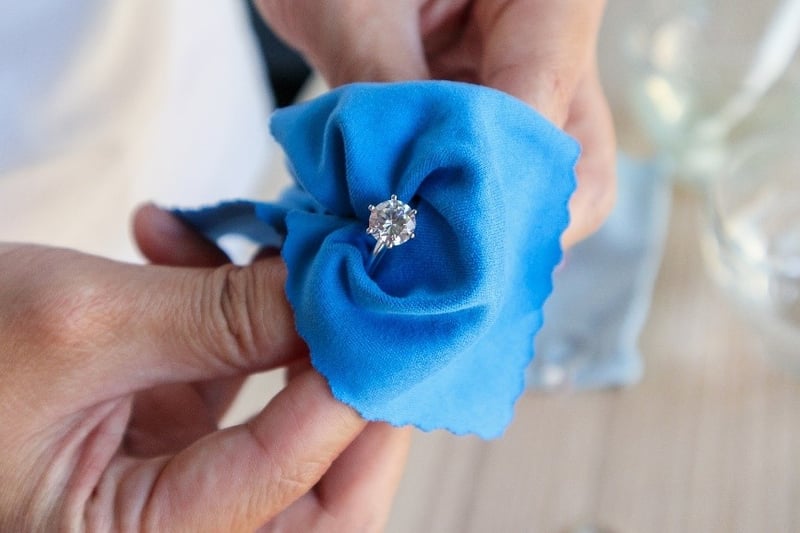 Here's why you should take your rings off during these times:

When washing your hands: Soaps or sanitizers may be harmful to certain stones and metals. In addition, cool water can cause your fingers to shrink, creating room for your ring to slip off. In general, rings and open drains are a risky combo which is why it's best to remove the ring before washing.
When showering: While your favorite body wash or shampoo may seem harmless, they can cause grimy buildup on or even contribute to deterioration of your ring. Suds can also cause rings to slip more easily off of fingers and down the shower drain.

Other times to remove your rings:
Before working out
Before applying sunscreen or bug spray
Before going into a hot tub or swimming pool
Before gardening
If you ever find yourself debating whether or not an activity could damage your jewelry, remember: better safe than sorry. Just make sure you put that jewelry away somewhere safe.

And if you do notice a missing or bent prong, a prong that may be too short or a stone that shifted, Jewelers Mutual recommends taking your ring to your jeweler immediately.
"Well cared for jewelry can last for generations," said Don Elliott, Jewelers Mutual director of claims. "Visiting your trusted jeweler for a professional jewelry inspection and cleaning at least twice a year will help uncover potential damage that may not be noticeable to the untrained eye. They'll be able to catch a loose diamond before you lose it from your setting completely."
Additional information on cleaning and caring for your jewelry is available in Jewelers Mutual's Cleaning and Care Guide. Learn how to clean your jewelry safely, where to store your jewelry when you are not wearing it and more tips on when to remove your jewelry to prevent damage or loss.

For a visual look at our cleaning and care tips, check out our infographic and video.
ABOUT JEWELERS MUTUAL
Jewelers Mutual Group was founded in 1913 by a group of Wisconsin jewelers to meet their unique insurance needs. Today, Jewelers Mutual offers products and services nationwide and throughout Canada that enable jewelry businesses to run safe, secure, and successful operations. Consumers also put their trust in Jewelers Mutual to protect their personal jewelry and the special moments it represents. The group's strong financial position is reflected in its 33 consecutive ratings of "A+ Superior" from A.M. Best Company. To learn more, visit JewelersMutual.com.
Survey Methodology
The Jewelers Mutual study was conducted in December 2019 by Kantar Group, a data, insights and consulting company. A sample of 1,053 U.S. adults aged 18-64 were interviewed via online self-completion.
# # #