A loose ring is a vulnerable ring.
Estimate Your Ring Size at Home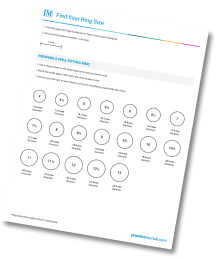 Nothing can rival the accuracy of a jeweler's measurement, but you can get a pretty good idea at home.
Download this handy printable ring sizer to get an estimate of your ring size, using one of three methods:
1. Measure a well-fitting ring.
2. Measure your finger with string.
3. Print a cut-out sizer.
A well-fitting ring is a safe ring. Ensure a proper fit by visiting your jeweler for a professional measurement.
Share with Your Friends